Madison's Premiere Doggy Day Care
Come Play With Us!
Worried about your pet when you go off to work every day? Need a temporary place to take them for a day or two? Our doggy day care services in Madison, Alabama might be just the thing you're looking for! The day care includes access to both our indoor and outdoor play yards as well as our splash pad (weather permitting, of course.) Our playground equipment is top-of-the-line, and as an added bonus, all dogs get a daily treat. All play time is supervised by our experienced, caring staff.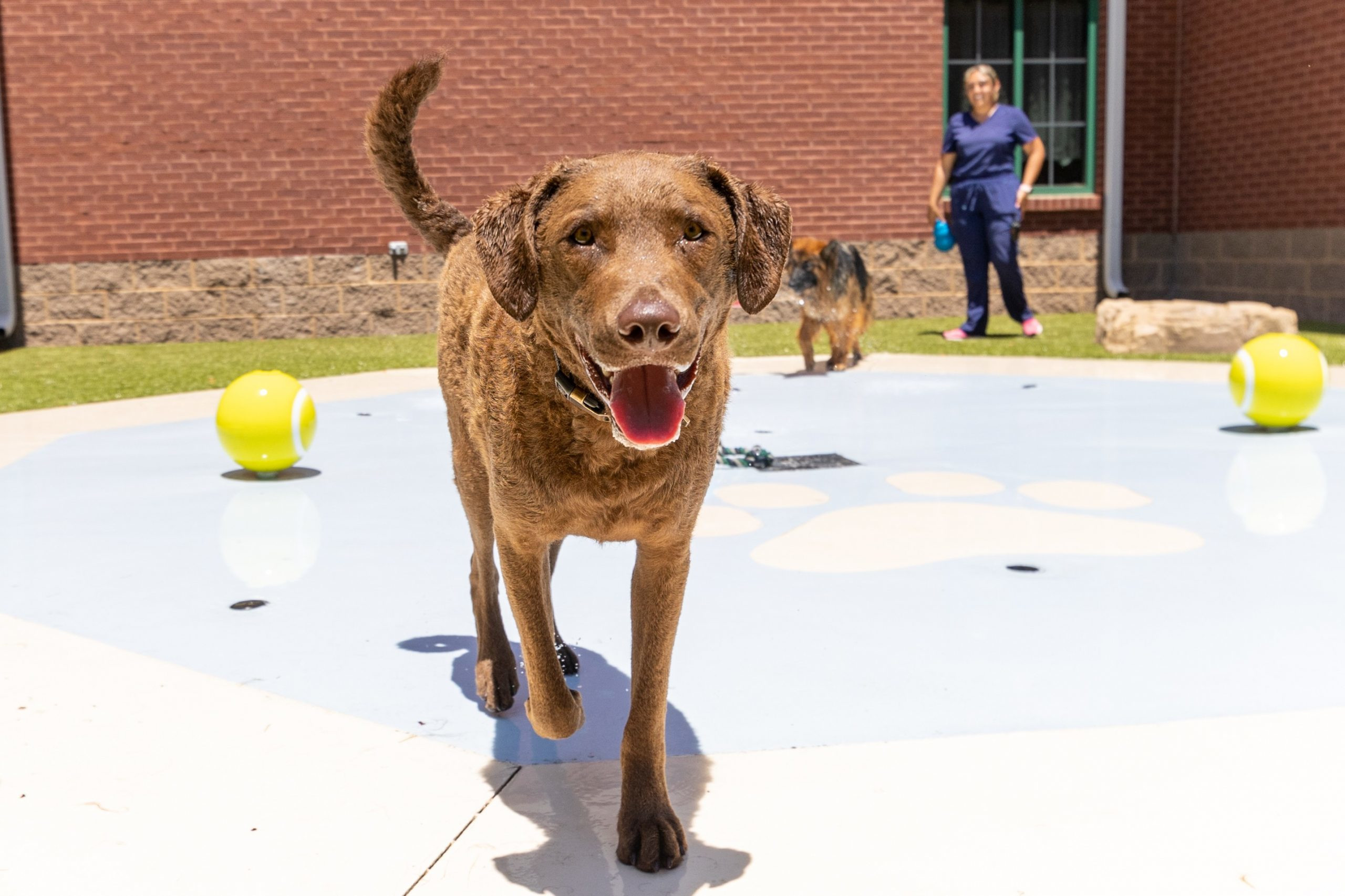 About
There's nothing better than knowing that your dog is not just in good hands, but actually having fun at their day care. Here at Clawington, we've pulled out all the stops to make sure your dog enjoys their day care time. We've invested in the best playground equipment for both our indoor and outdoor play areas, and have a splash pad that will help them cool off on hot days.
For extra peace of mind, our doggy day care packages include webcam access to two of our rooms so that you can check in on them throughout the day! We offer full-day and half-day options, as well as multiple pet discounts and 10 and 20-day packages.
Sign Up Online
Ready for your dog to have a blast? Get in touch with us to sign up for a half day evaluation.
Looking for a little bit more?
We here at Clawington of Madison know that your pet's are family, and sometimes they need that extra little bit of attention! Come check out our VIP packages and see what's possible at Clawington of Madison!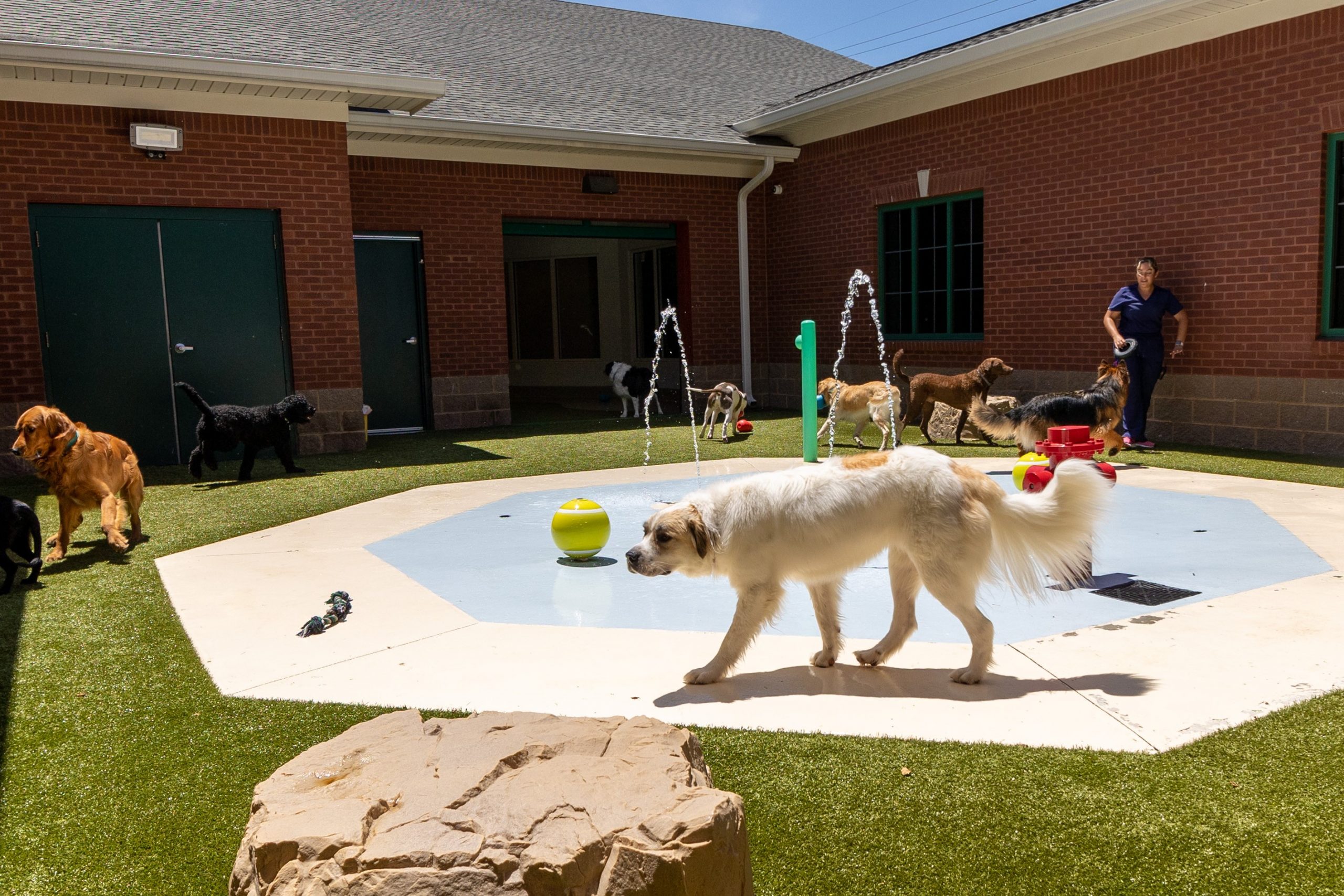 Booking Policy
Please make sure your dog is current on all required vaccinations as well are actively on a flea and tick preventative. Please also make sure they have basic socialization skills. Inform us if they have any special dietary needs or restrictions, or will need to take medication during day care hours.
Daycare Packages & Pricing
Daycare Evaluation
Want to get your dog started with Doggie Daycare? Sign up for our Daycare Evaluation now!
Our Daycare Eval allows our daycare staff to get to know your dog's personality and playstyle, allowing us to place your dog in their perfect play group
$22
Includes 1/2 day of play!
Half-Day Doggie Daycare
Looking for a way to have a quiet morning or afternoon to yourself, or even run some errands?
Half-Day Doggie Daycare allows your pup to run off their energy in a safe and engaging environment!
Half-Day daycare includes access to our Doggie Splash Pad
$ 17
Full-Day Doggie Daycare
Our Doggie-Daycare Full-Day program allows your pup to play off all their energy and engage in safe and healthy socialization!
Our Full-Day Program allows your dog to play and engage with other dogs all day long!
$ 27
*Dogs are brought in for a lunch break, this allows them time to rest before returning to the play yards.
Half-Day Doggie-Daycare Packages
Our Half-Day packages give you easy and convenient access to our Daycare Services.
Use our Drive-Thru for easy Drop-off and Pick-Up Services
10-Day Half-Day Package:
$ 153
20-Day Half-Day Package
$ 306
Full-Day Doggie-Daycare Package
Our Full-Day Packages give your pup the outlet they need to expel their energy and interact with their friends.
Use our DriveThru for easy Drop-Off and Pick-Up 
10-Day Full-Day Doggie Daycare Packages
$243
20-Day Full-Day Doggie Daycare Packages
$486
At our doggy day care, your dog will be able to hang out with their other canine friends (closely supervised, of course) and enjoy lots of playtime!
How are dogs screened before being accepted into day care?
Every time a new pup applies for day care, we have them come in for half a day to get to know them. One of our staff members carefully observes their behavior towards the new place, other dogs, new people, and anything else that may be of concern to either the dog, the staff, or their owners. After the screening, we'll decide whether the dog is ready for day care and make a recommendation for full day, half day, adjustment periods, socialization, etc.
What are your vaccination/flea and tick requirements?
All of our pups are required to have the following:
 Heartworm Test
 Intestinal Parasite Screen
 Proof of Flea & Tick Prevention as well as Heartworm Prevention
 Canine Influenza
 Distemper
 Bordetella
 Lepto
 Rabies
Thank you for helping us protect our puppies! If you have any questions regarding these requirements please contact our front desk!
Are you able to accommodate special diets/medications?
Yes, on a case-by-case basis. Please let us know upfront whether your pup will need medication administered while they are with us, or whether they are on a specific feeding schedule/diet.
What kinds of packages and discounts do you offer?
We offer a multiple pet discount starting at 10% per pet – please get in touch with us for more details. We also offer 10 and 20-day packages at discounted rates.